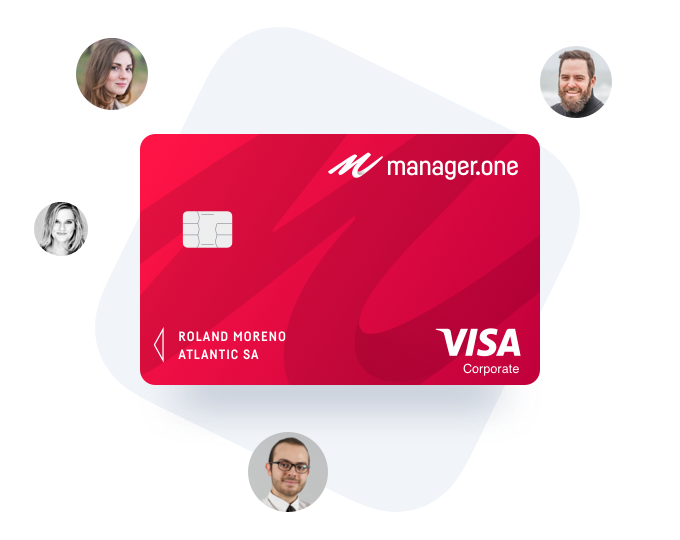 Visa Corporate card
A card with no payment limit, that you can setup in real time.
No more expense reports
Unlimited cards, with no additional monthly fees
Block a card automatically with undocumented expenses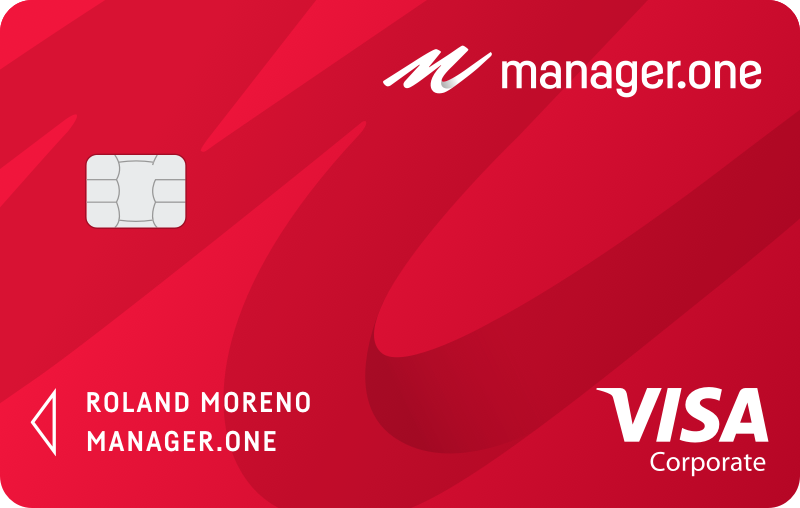 Enjoy a truly limitless card experience
The manager.one Visa Corporate card was designed to be fully customisable by the holder, depending on the needs of their business. We wanted to offer professionals a simple, secure and highly functional tool.
Number of cards
An unlimited number of cards,
with no extra cost
You can order as many Visa Corporate cards as you need. The first card is absolutely free. Only the card manufacture and shipping costs will be invoiced for the additional cards (€20 per card). No other charge will be applied.
Card allocation
Issue a card to each of your employees
Because you can create as many Visa Corporate cards as you want, you can give one to each of your employees. They can then complete all their day-to-day tasks independently, and manage their own professional expenses.
Business expenses
Allocation of business expenses
manager.one allows you to allocate cards or users for each expense. You can use whichever labels you want. Every user will have access to the bank account and every card-holder can use the online interface or their mobile to link an expense to a project.
Business expenses
Attributing business expenses
manager.one allows you to attribute business expenses. It means that the Visa Corporate card holder can attribute their expenses to one or more people specifically. This information is then visible in the data exported to the accounting software.
Sub-account
Create any sub-accounts you may need
In order to restrict access to the primary account, one or several sub-accounts may be created. Any cards given to employees can then be connected to a specific sub-account.
Settings
Advanced settings for your Visa Corporate card
manager.one allows you to customise each of your Corporate cards in real time, directly from your client area. A lot of tools are available: you can temporarily block the card on certain days of the week, activate contactless payments or even set which kind of expenses you want to authorise.
Payment limits
Set your own payment limits
In theory, the Visa Corporate card does not have any payment limits. You can, however, set a certain payment and withdrawal limit for each card. These can then be modified in real time from your client area, using your computer or mobile app.
Secure your employees' expenses
Proof required
Thanks to the proof required option, you can oblige your employees to systematically attach their receipts via web or mobile phone. Without it, the card is automatically blocked for the next expense. The aim is to keep up to date with the account as you go along. In this way, it can be exported to the accounting system at any time.
Business expenses
Supervise your employees' expenses
Keeping control over your employees' business expenses is now child's play. Each of your employees will use a Visa Corporate card for their business expenses, and you'll have configured it beforehand.
Notifications
Get your notifications in real time
Each transaction completed using one of your Visa Corporate cards will trigger a notification on your mobile phone. This will contain all of the key transaction information, such as the name of the establishment and the payment total. You can configure how and when you receive your notifications via your computer or mobile.
Accounting
Documenting your operations
After using a Corporate card, you can scan or upload the associated receipt. This will simplify your accounting, and ensure that there are no holes in your accounts.
Benchmark study on corporate cards
Awarded best corporate card
According to a study carried out in 2019 by the consulting firm KPMG France: "
International benchmark of payment cards
", manager.one payment cards offer the most added value services for Professionals and Corporates in the world.
Find out more
Mobile payment
Pay with your smartphone
It is now possible to pay for business expenses with a smartphone or a connected watch in local shops.
Even virtual cards can be registered on Apple Pay or Google Pay! Convenient for employees who do not have a physical card.
Discover our new Visa virtual cards
Unlimited creation of virtual cards without any additional costs.
Our payment cards fit perfectly all needs of your employees.
A tailor-made payment card